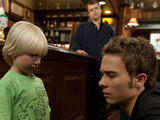 The atmosphere's toxic between Steve and Becky, and Max is feeling it. Moved to see him down, Kylie offers a hug when she finds him in the Rovers yard. But when Max runs inside, Kylie's stung and relates her feelings to David.
Unaware she sold Max, David can't understand why she's letting Steve and Becky raise her child. As David insists they could give Max a better home, even confronting Becky, will Kylie be forced to confess to what she did?
Meanwhile, there's still no sign of the camper van. The culprit eventually finds it, but this time the van has been damaged. Can they continue to evade discovery?
Elsewhere, when Claudia finds a receipt for an expensive scarf in Marc's pocket she waits to receive her gift; Tina wonders if Xin is milking her invalid status but Graeme insists it's his duty to look after 'his wife'; and James offers Sophie some info on working for the charity.
Writer: David Lane
Director: Neil Johnston