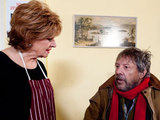 Rita's convinced that she knew the man with Sophie and Sian and heads to the soup kitchen with the girls. Dennis is embarrassed at Rita seeing him like this, but this time he reveals all about his true identity.
At the same time, Sophie's also suspicious about Tommy's motives as he takes Sian on her first driving lesson. Will her fears be realised?
Meanwhile, Ches won't let his suspicions about John drop, despite Katy's protests. With no-one to talk to about her constant sickness, Katy confides in Anna about her pregnancy. While she does so, Chesney braces himself before knocking on the door of the Hoyle house and introducing himself as Colin's little brother…
Elsewhere, Steve and Tracy are united in worry for their daughter as she remains unwell, but Becky feels sidelined; David continues to show an interest in Max; and Sean's stunned when Marcus walks into The Rovers.
Writer: Damon Rochefort
Director: Duncan Foster