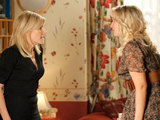 As a stunned Leanne takes in the news, Eva's furious with her mum for keeping the fact that Leanne is her sister secret from her. Stella begs Eva's forgiveness, but she's bitter and tells Stella that while she may have gained a new daughter, she's lost her old one.
Still reeling from the news, how will Leanne react when Stella arrives on her doorstep desperate to explain why she left her as a baby?
Meanwhile, Fiz's spirits plunge as the police return asking more questions in light of Hayley's admission that Fiz left Chesney's party briefly to look for John on the night Colin died. Fiz denies any wrongdoing, but will the police buy her story?
Elsewhere, Becky and Steve ponder a life apart. As both attempt to put on a brave face, will they go their separate ways?
Also, Owen has a shocking proposition for Anna, while Sophie, Sian and James host the charity auction at the Bistro.
Writer: Jan McVerry
Director: Noreen Kershaw