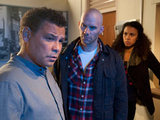 As Lloyd questions Chris about his appointment, the builder is uncomfortable and Lloyd's suspicions grow. Paying a visit to Dr Matt, Lloyd acts concerned, but while Matt's thrown to hear that Chris is telling people he's dying, he doesn't give anything away.
Later, Chris is fuming when Matt confronts him over his lies and accuses Lloyd of meddling. During a heated exchange, Lloyd reveals his suspicions. But when Cheryl walks in on the row, Chris drops a bombshell of his own.
Meanwhile, Paul calls Eileen at work and explains that Lesley has gone missing. Eileen's calm as they come up with a list and work through it, eventually finding a confused Lesley. Paul can't thank Eileen enough, but will work be so understanding?
Elsewhere, Katy goes to pay the rent but she's horrified to discover that the money is no longer in her purse; Gary heads to the cenotaph for Remembrance Day with Quinny's parents; while Kirsty's unimpressed when she spots Tina walking round Tyrone's house in only a towel.