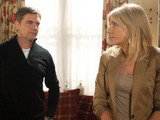 Karl thanks Sunita for letting him stay the night, while Stella meets with her accountant to sort out his mess. The pub could be in danger, and as a sheepish Karl returns home, Stella lays into him - explaining that they need a loan to consolidate their debts which they'll be paying off for years.
Karl vows to ask Steve for his job back and sort himself out, but when Peter confesses that Karl instead turned up at the bookies, it's too much for Stella who feels her world imploding. Confronting Karl, is this the last straw?
Meanwhile, Peter apologises to Leanne for their row at mediation, and offering an olive branch, asks if she'd like to have Simon for the day. Leanne's thrilled and her bond with Simon is clear, but when Simon overhears her calling Carla a black widow and repeats it at home, Peter's outraged.
Elsewhere, Tommy learns that Geoff left him thousands in his will, David brags to Audrey that he's got a new job at a posh salon in town, while Carla debates Sally's proposition to buy into the factory.