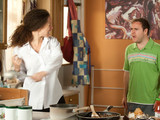 Kirsty is smug about seeing off Terry's club, but she is later called to a meeting and is suspended for her illegal search of the Town Hall. Kirsty is devastated - this is the end of her police career. Tyrone tries to reassure her, but as Tommy insists she's got her comeuppance, she storms off. Back at the house, Kirsty turns on Tyrone, accusing him of not backing her up against Tommy and pushing her into taking action against the club.
Trying to make it up to Kirsty, Tyrone reveals that he's spoken to Carla, who's offered to give her a job packing at the factory. However, raging at Tyrone, Kirsty insists that policing was her life. Tyrone apologises, but when he suggests she's over-reacting, Kirsty's anger boils over and she viciously lashes out by hitting him hard with a kitchen utensil. Tyrone is stunned by her actions.
Meanwhile, Kevin asks Pam if she'll consider having Jack on a semi-permanent basis as Sally isn't prepared to play mother to him. Pam is appalled by Kevin's selfishness, but agrees she'll always be there for baby Jack. Can Kevin really give up his son for Sally?
Elsewhere, Tommy offers to bail Terry out with his inheritance money when the loan sharks come calling, Julie is floored as Doctor Matt gives her the test results, while the residents work on their entries for the Weatherfield in Bloom contest - with Norris keen to outdo his neighbours.