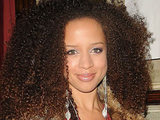 Tyrone has had a restless night as he tries to get his head round what Kirsty has done. As she profusely apologises, will Tyrone be able to forgive and forget?
Meanwhile, Tina is excited as she and Tommy prepare for their meeting with the bank about a mortgage for Jason's flat. However, Tommy has promised the money to Terry. When Tommy finds his dad face-to-face with a loan shark, he hands over the cash. Terry is flooded with relief and promises never to let his son down. But as Tommy goes to break the news to Tina, what will Terry's next move be?
Elsewhere, Brian has convinced Julie that she needs treatment. As they arrive at the hospital, Julie tries to put on a brave face. What does this mean for her future as a mum?
Also today, Faye takes advantage of Mary's trust, gossip spreads about Sally and Kevin, David is gutted as there's still no news from Kylie and Max, while Audrey returns to work at the salon.