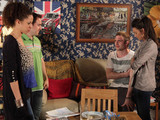 Tina and Tommy are out of ideas to get rid of Rick, so they turn to Kirsty - as a former copper, they need her advice. As they confess to everything, Kirsty is horrified, realising they've been using the garage to conceal drugs and have lost all of Tyrone's savings. Angry, she orders Tina and Tommy out before rounding on Tyrone. But this time Tyrone refuses to back down, giving an impassioned speech about family. Will Kirsty accept this?
Back at the flat, Tommy gets a call from Rick offering him a way out - one last job tomorrow that will clear his debt. But as Tommy reveals what the job is, Tina reels - it's Rita's wedding tomorrow and if Tommy gets caught he'll go down for years. But does Tommy have a choice?
Meanwhile, it's the eve of Rita and Dennis's wedding, but when Norris and Mary spot Dennis with old flame Norma, they're scandalised and take a snap on Mary's mobile phone. Back on the street, Rita's hen do is in full swing when Mary shows her the picture. Furious, Rita crashes Dennis's stag do and announces that the wedding is off. Rushing after her, will Dennis be able to talk his bride-to-be round?
Elsewhere, Anna is stressed about how she's going to replace everyone's floral displays. However, when Norris thanks her for his new hanging baskets, she's bemused. Who is her knight in shining armour?
Also today, Sean and Marcus are upset when Violet cancels their trip to see Dylan, while Karl suggests to Sunita that they should sneak off during tomorrow's street party so he can make it up to her.