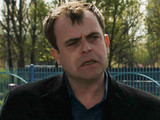 Business is booming at Streetcars as a nearby taxi firm has gone bust. Steve is out in his cab when he spots smoke coming from a taxi owned by rival firm Prima - and to his surprise, Lloyd walks out of the smoke towards him. Explaining that the job is a stop gap, an embarrassed Lloyd is forced to reveal that he lost most of his money in an ill-advised property deal.
Insisting on helping his old mate, Steve fetches Lloyd back to the street, offering him the spare room at the flat and to come back to Streetcars. A chuffed Lloyd accepts. But when Lloyd bumps into an irked Karl and makes it clear that he's going to be his boss again, Steve is puzzled - he was offering Lloyd a job as a driver, not co-owner. How is Steve going to get himself out of this one?
Meanwhile, Marcus has spent the night at Maria's, but as he returns to Number 11 to pick up his things, he and Sean come face to face. It's emotional as they remember the happier times, but they manage to part on good terms as Marcus reveals that he's moving back to London for a clean break. However, when Marcus tells Maria of his plans, she's floored and puts forward a compelling case for him to stay. Will Marcus agree?
Elsewhere, with Fiz, Katy and Chesney all struck down with a virus, Anna offers to take Hope and Joseph to hers for a few days. Seeing her struggling, Gary and Izzy offer to help.
Also today, when Hayley's salsa partner is taken ill on the day of her exam, she asks Norris to step in as a replacement.