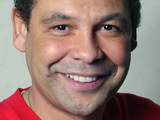 Steve is watching Amy at sports day when Lloyd comes charging towards him. Realising he's baying for blood, Steve runs. However, Lloyd catches up with him and tackles him to the ground. As a fight ensues, the kids watch in horror.
Arriving at the scene, Tracy is forced to confess to sabotaging Lloyd's cabs. Steve is furious and as Brian gives them both a lecture, Steve apologises to Lloyd before returning to the street to have it out with Tracy. When Steve admits that he should never have got involved with her again, Tracy is hurt - she was trying to save his business and expected him to be grateful. Will Steve forgive Tracy, and can he and Lloyd find a way forward?
Meanwhile, Peter is still smarting after events at sports day, but as they arrive back at the flat, he's determined to impress Simon with his birthday tea. But will Carla's best efforts be recognised and can Peter, Carla, Leanne and Nick really get along together, even for Simon's sake?
Elsewhere, when Anna finds Faye at home, she rails at her for bunking off school. Faye stomps out, but when a classmate confronts her on the street, bullying her about being adopted, her behaviour is explained. Will Faye confide in Anna?
Also today, Izzy admits that she's not ready to tell people about her pregnancy as she worries about how dad Owen might react.