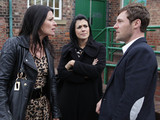 Leaving Carla to catch up with her ex-jailbird brother Rob, Peter finds Nick alone at the Bistro, but fails to talk him out of his plan to leave with Leanne and Simon. Seeking but not receiving support from his father, an increasingly angry Peter soon finds himself berating Ken, vowing that he would never abandon Simon as Ken abandoned Peter years ago.
At the same time, Carla takes Rob to the café but gives him short shrift, refusing to accept his spell in prison for armed robbery had anything to do with her. She then angers him when she offers him money, hoping he will disappear again. Upset by Carla's attitude, Rob storms out.
Later, feeling the world is against him, Peter turns on Carla, informing her that the most important person in his life is Simon. However, with the turmoil of her brother's reappearance, will Carla listen to Peter's self pity?
Meanwhile, as Owen explains his concerns over Izzy's ability to become a parent, his views upset both Gary and Izzy - they fail to see how her disability makes her any less of a mother. Defending his girlfriend and believing that no-one else shares Owen's point of view, Gary squares up to him. Has Owen's attitude served to alienate his family and friends?
Elsewhere, Tracy and Amy move into Emily's. Having overheard Norris telling Emily how he is nervous about having a convicted murderer in the house, an amused Tracy sets about winding him up. How will Norris react to Tracy's mind games?
Also today, Hayley is slightly put out when Roy extols the virtues of his new friendship with Mary, while Anna discovers Faye's new trainers dumped in the bin.