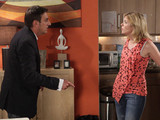 When Carla returns to the flat hoping to make up with Peter, she finds him drunk and quickly realises that it's over between them. Peter heads out after telling Carla to pack her belongings and leave. Peter mistakenly believes that with Carla out of the picture he could rekindle things with Leanne, so he tracks her down at the Bistro and drunkenly puts his idea to her.
Leanne is tired of Peter's erratic behaviour, so she viciously points out that he can't come crawling back to her. A broken Peter heads towards The Rovers, but as Ken steers him away, he shuns his father's offer of help and heads off alone. Believing his life to be worthless, is Peter about to spiral out of control?
Meanwhile, having persuaded Faye that she must report Lindsay's bullying, a determined Anna shows headmaster Brian the evidence of Lindsay's campaign against her adopted daughter. Brian seems perturbed when he realises the identity of Faye's tormentor and tells a bemused Anna that it will blow over.
Later, Brian calls Anna back into school and suspends Faye for fighting with Lindsay. Then it's an outraged Anna who takes decisive action to ensure Faye's safety. Will Anna's actions impact on Faye's future? And why is Brian seemingly reluctant to deal with bully Lindsay?
Elsewhere, an excited Tyrone invites Tommy and Tina round to look at his holiday pictures from his trip to the Lakes with Kirsty. It's a pleasant if boring evening for Tina and Tommy, as Tyrone enthuses about what a great time they had. However, his enthusiasm is dampened when an angry Kirsty snaps at Tyrone for showing his friends the photos. As an embarrassed Tina and Tommy hurriedly leave, Tyrone is once again left walking on eggshells and wondering what he has done to anger Kirsty so much.
Also today, Michelle brings Rob up to speed on Carla's recent troubles, while Marcus feels it's a little cramped with him, Maria, Liam and Kirk all living under the same roof.