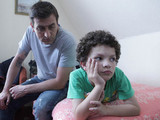 Having spent the night in a B&B, Peter tells Simon they're going on an adventure together. However, Simon is worried and tells Peter that he just wants Leanne. Back on the street, Ken and Leanne report Simon missing to the police as Peter phones Carla and begs her to meet him. Carla obliges and Peter urges her to give him another chance.
Carla reminds Peter of all the horrible things he said and points out that he also tried to persuade Leanne to have him back. Peter promises it was only a desperate attempt to get Simon back and he's never stopped loving her. Will Carla and Peter kiss and make up? And how will Carla react when Peter tells her his plans to flee the country with Simon?
Meanwhile, Tyrone is cold towards Kirsty as he clears up the broken glass from her rampage. Kirsty tries to apologise for her outburst, but Tyrone blanks her. Later, Eileen tells Tommy how she heard Tyrone and Kirsty rowing and things being smashed against the wall. Tommy then drags Tyrone out for a drink and tells him how Eileen heard the row. Will Tyrone confide in Tommy about Kirsty's abuse?
Elsewhere, when Marcus offers to cook Kirk another meal of his choice, Kirk misreads the situation and thinks Marcus has got the hots for him. Kirk tells Marcus that as much as he enjoyed their dinner together, he doesn't fancy him. Marcus and Maria are highly amused, and Marcus assures Kirk that he needn't worry!
Also today, Rob finally wins Eva round and they head off into town on a date, Anna decides to throw a barbeque to celebrate the end of Faye's bullying trauma, while Izzy and Owen finally make up and Owen promises he has faith in her ability to be a good mother.