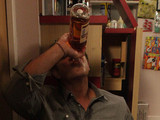 Sunita insists to Karl that together they can make it work. Karl is not convinced, but with nowhere else to go, he agrees to stay at Sunita's. Bumping into a hostile Leanne, Sunita defiantly tells her that Karl has moved in and they're in love. When Leanne delivers the news to Stella, the landlady puts on a brave face and insists that she's fine.
At the same time, Dev is drunk and depressed in the shop flat. Finding him there, Lloyd insists on taking him out to the Bistro for dinner. However, Sunita and Karl are already eating at the Bistro and when Dev spies them enjoying a cosy meal, he goes berserk and launches himself at Karl. Lloyd and Nick drag him off as Dev returns to the corner shop to drown his sorrows. Is Dev about to take drastic action?
Meanwhile, Rob makes the factory girls stay behind to do a bit of overtime. Gary is not happy and corners Rob in the gents, telling him not to overwork Izzy as she's pregnant. An unaware Izzy thanks Gary for showing some restraint and not mentioning anything to Rob.
Elsewhere, at Maria's suggestion, Marcus arranges a date with Aiden. They meet in The Rovers before heading into town. Witnessing their meeting, Sean is clearly upset and Julie confronts Marcus.
Also today, Eileen is astounded as Steve lies to Michelle about how well Ryan is doing at Street Cars, while Fiz, Katy, Gary and Izzy decide to organise a party for Chesney's 18th birthday.