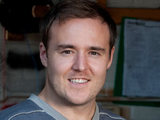 Tyrone hurriedly pulls his top back on and refuses to discuss his injuries. Kirsty then arrives, and with a look from Tyrone, Tina is forced to drop it. Alone, Kirsty tearfully explains to Tyrone how she only flies into a temper when he puts his friends before her and she feels second best. Tyrone promises that it won't happen again.
As Tyrone meets up with Tina for a drink, he comes clean about Kirsty beating him up, but insists it's his fault for provoking her. Tina is horrified, but Tyrone makes her promise not to tell anyone...
Meanwhile, Michelle admits to Maria how Steve made a pass at her - she slapped him down, but now regrets it and thinks she may have been too hasty. Michelle then invites Steve for a drink and apologises for biting his head off. As she thanks him for all he's done for Ryan, will Steve risk having another crack at Michelle?
Elsewhere, Emily is cross with Norris for padlocking his bedroom and offending Tracy. But while Norris is taking a nap, Tracy padlocks him into his bedroom then turns up the TV to drown out Norris's cries for help. Shouting from his bedroom window, will Norris escape? And how will Emily react to Tracy's games?
Also today, Roy surprises Sylvia with a flight to go and see Milton. She decides to accept the gift, but will she go as far as allowing her son to give her a farewell hug?