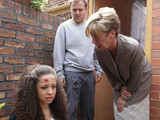 Tyrone tells Kirsty that they need to find help for her anger issues. Though nervous, Kirsty realises that their relationship is at risk, so she agrees to see Doctor Carter. However, when the time comes for her appointment, Kirsty bottles it - concocting an excuse and fleeing from the surgery, which leaves Deirdre bemused.
Kirsty later tells Tyrone that everything is fine - Doctor Carter reckons that her problems are due to pregnancy hormones and she just needs to relax. Later in The Rovers, though, Tyrone asks Deirdre what follow-up options might be available and the truth comes out. When Tyrone later confronts Kirsty, a heated argument erupts between them in the back yard of Number 9. Kirsty desperately tries to grab Tyrone, but when he shoves her away, she stumbles over and sustains an injury of her own - just as Deirdre walks in...
Meanwhile, with the help of Lloyd, Steve arranges an acoustic night gig for Ryan at a local pub. Michelle is thrilled when Ryan agrees to do it, but does he have ulterior motives for taking the opportunity?
Elsewhere, Tracy continues to work her ticket in a way only she can. Is Emily starting to believe that Norris's constant whining about the house interloper is justified?
Also, Mary's infatuation with Roy steps up a pace when she gets him to agree to a musical excursion.