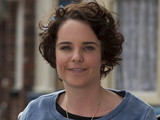 Owen's anger reaches a new peak as Anna holds him back from attacking Gary. At the same time, Chesney is stunned - this is the first he's heard of Katy's plans. The christening party is promptly cancelled. As Katy looks forlornly at the wasted buffet, Izzy announces that Owen's reaction has helped her make her mind up - she wants to go ahead with the surrogacy.
Katy is thrilled, but Chesney is clearly concerned, telling her that she should have talked the decision through with him first. Later, after a talking-to from Anna, Owen comes round to apologise for ruining the christening. Izzy won't accept his apologies, and what she has to tell him leaves him reeling…
Meanwhile, after surviving her bashing from Tracy, Michelle's in no mood for Steve being weak. She tells him emphatically that they have to forget about the mother of his child - she's not part of their future.
Elsewhere, Eva is ecstatic when Rob tears a strip off Karl for the mucked-up order and sacks him on the spot. As Karl leaves, he knows it was Eva who set him up. He heads home dreading how Sunita will react to the news.
Also today, Kevin's DIY at number 13 drives his new neighbour Paul up the wall.