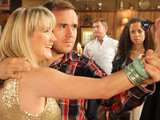 Sunita persuades Karl to take her to The Rovers to show Stella they are solid and far from hiding away. However, Dev refuses to mind the kids as he's got a hot date.
Later, Sunita looks on as Dev meets his date Sam. Dev recruits Tyrone, who's having a drink with Tommy, to keep Sam's mate Nikki occupied. Tyrone does as he's told, unaware that Kirsty is watching him from the doors of The Rovers…
Meanwhile, Izzy, Gary, Katy and Chesney head to the clinic for their first surrogacy interview. They're overwhelmed by how much is involved. Gary dreads the counselling, Katy is nervous of injections, while Chesney is worried about the costs. It's clear this is something Gary has concerns about too...