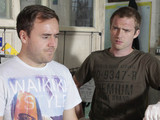 Tommy realises that saying anything to Tyrone regarding what Tina has told him about Kirsty would seem like an act of betrayal, so he agrees to keep schtum. Over lunch, while bantering with Kirsty over baby names, Tyrone accidentally scalds his hand with a boiling kettle. When he arrives back at the garage with his hand now lovingly bandaged by Kirsty, Tommy clocks this and panics.
Thrown by Tommy's concern, Tyrone explains how it happened, but Tommy clearly doesn't believe him. Later, when she sees Tyrone together with Tommy and Tina, Kirsty has a go at them all - she's sick to the back teeth of their secret trysts. However, Tommy has heard enough and he gives Kirsty a piece of his mind that leaves her mortified…
Meanwhile, Michelle is concerned as Ryan struggles in secret trying to suppress the urge for his next fix. When Steve offers to take Ryan to a gig later, this is the last thing he needs. Later, however, Steve feels threatened when he hears that Rob is taking Michelle out for dinner, so he decides to gatecrash their meal and tells Ryan he'll have to go to the gig alone. Ryan quickly realises that he can turn the situation to his advantage…
Elsewhere, Sunita puts pressure on Karl to find a job as they can't keep living off Dev. Later, Karl is excited when he reveals that a mate has offered him a job lot of smoke detectors for a grand. Will he be disappointed when Sunita doesn't jump for joy?
Also, Jason is not impressed when Maria arranges a bank holiday DVD night with Marcus and Aiden.