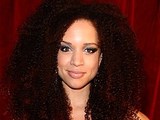 Despite being exhausted, Tommy is pushing for extra shifts with the security firm to pay off his debt to Tyrone as soon as possible. It's clear that working so hard is taking its toll, and later Tommy falls asleep in the café, almost missing his shift delivering pizzas.
At the same time, Kirsty reminds Tyrone that it's pay day for Tommy, and she'll deal with it. Tyrone insists that he'll do it after work, but Kirsty ignores this and goes round to see Tommy herself, demanding the dosh. Later, Tina takes the money to Kirsty and insists that she deals with her in future. Furious that Kirsty keeps berating Tommy for losing Tyrone's money, Tina begins to bite back. Will Tina's words lead to Kirsty's rage spinning out of control?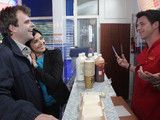 Meanwhile, Michelle is delighted when Steve secures Ryan a job at Dev's kebab shop. The job had originally been offered to Tracy, who turned it down in disgust. When Tracy sees Ryan working in her place, however, she hatches a plan and goes back to see Dev. Later, Ryan is surprised when Tracy arrives at the kebab shop, announcing that she's his new assistant. But what are her real motives for taking a job she earlier felt was beneath her?
Elsewhere, Eileen does her best to make sure that Paul doesn't notice the missing vase. Browsing online, she finds a shop with one in stock. Sean is shocked by the price tag, but Eileen reminds him of how much the vase will mean to Paul - it was part of his life with Lesley. Later, with the new vase in place, Paul starts to tell Eileen a funny story about it. However, what will he say when he notices that the crack that's been in the vase for years has somehow repaired itself?
Also, Karl tells Sunita that he has a few hours' work driving cabs - will she be impressed?