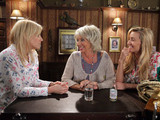 Stella and Eva are woken up by somebody banging loudly on the pub door - and they're shocked to find that it's Gloria, Stella's mum. Stella and Eva listen as Gloria explains that all is not well in Spain and she needs to lay low for a while.
Gloria is upset to hear of Karl's affair and manages to wangle his address from Eva. She heads round and demands to know exactly what's been happening. Karl points the finger of blame firmly in Sunita's direction, seeing Gloria's arrival as a chance to win his way back into Stella's heart.
After meeting her long-lost granddaughter Leanne, Gloria engineers a meeting between Stella and Karl, hoping they can sort their problems out. However, Stella's reaction takes them both by surprise.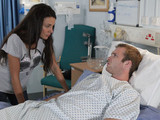 Meanwhile, Tina falls to pieces when the police inform her of Tommy's crash. As the word spreads, Kirsty is apathetic - but Tyrone is clearly shocked by the news. Tina arrives at the hospital with Rita and they find a groggy Tommy suffering from a broken leg. The doctor tells them that it will take up to three months for Tommy to recover from his injuries. There's no way they'll pay off their debts now.
Things take another turn for the worse when Tommy's pizza parlour boss arrives with devastating news about the van that Tommy has written off in the accident…
Elsewhere, Michelle and Steve are stunned as Tracy emerges from Ryan's room. Michelle practically drags her out of the flat, despite Ryan's protests. Michelle and Steve try to make it clear to Ryan on how many levels his relationship with Tracy is wrong, but he won't listen. Later Ken suggests a tactic to Michelle and Steve about dealing with Tracy. Will it work and will Michelle be able to follow his advice?
Also today, Eileen and Paul clash over colour schemes - who will come out on top?
The next episode of Coronation Street airs on Sunday, September 9.