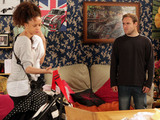 A bruised Tyrone tells Kirsty that he wants nothing to do with her as he leaves the house with Ruby. Later, Fiz advises Tyrone that he needs to take charge for Ruby's sake if nothing else. Soon afterwards, he returns to Number 9 and tells Kirsty that they can't carry on living together. He wants her out and he'll be keeping Ruby, although Kirsty can see her as much as she likes.
Kirsty begs Tyrone to reconsider, but he insists that he has to put himself and his baby first. Kirsty then turns nasty and she bites back, producing a document that means she's the one calling the shots… Tyrone is left reeling.
Meanwhile, David notices that Maria seems distracted while at work, and he reckons that she's doing the dirty behind Jason's back. Later, Jason is concerned when Maria snaps at him as he suggests that he should start moving his things in. Marcus takes the brave step to tackle Maria about what's up. He can't believe what she tells him and how she's managed to keep it to herself.
Elsewhere, Jenna and Lloyd meet at his flat. When Mandy turns up unexpectedly, it becomes clear that Jenna wants nothing to do with her mother. Lloyd is concerned, but agrees to her hiding in the bedroom while he tells Mandy that he hasn't seen his daughter. This goes well until Mandy clocks Jenna's coat on the sofa.
Also, when Mary wins a lavish holiday for two Norris is determined to be invited as her guest, David is embarrassed when he can't afford to buy Max new footie boots, while Paul plans a surprise party for Eileen - but does Eileen want any fuss?