11
Soaps Spoiler
Tyrone feels helpless after Kirsty's threats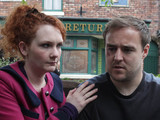 Aired Monday, Oct 1 2012 at 20:30 BST on
Tyrone can't believe that Kirsty hasn't put his name on Ruby's birth certificate, or that she'd threaten him with never seeing his child again. Tyrone tells a shocked Fiz that Kirsty is threatening to take Ruby away from him and has made sure that he has no parental rights. Realising he doesn't have a leg to stand on, Tyrone goes home and tells Kirsty that she's right, they owe it to Ruby to work things out.
Tyrone explains that he's happy for Kirsty to stay, but he can't trust her to look after Ruby. He suggests that she sees a counsellor, returns to work and he becomes a stay-at-home dad. Kirsty agrees and gets her old job back. Tyrone then tells a furious Kevin that he needs a year off.
At the same time, Fiz can't believe Tyrone's news. She is dead against it, as she reckons he's being blackmailed by Kirsty. But will her words ring true with Tyrone?
Meanwhile, Maria explains to Marcus that she has been referred to a clinic about a lump in her breast and her appointment is that day. She wanted to keep quiet about it until she knew what she was facing. Marcus insists on coming to the hospital with her. After fobbing Aiden off and avoiding Jason, Maria and Marcus arrive at the clinic. The tests are inconclusive, and when they head back to the street, not even Marcus's informed encouragement about the potential prognosis can seem to lessen Maria's stark fear.
Elsewhere, Mandy demands answers from Lloyd - how could he be so cruel as to keep his meetings with Jenna secret when she has been worried sick? Jenna steps in, explaining that she asked Lloyd to keep quiet and that Mandy is a terrible mother. Mandy is inconsolable - she's raised Jenna and now it's Lloyd who has the relationship with her. Lloyd is gutted, but doesn't know what to do to help.
Also, Norris fumes when Mary offers the Croppers her first class flights, while David feels inadequate when Nick spoils Max with new football boots.
Get the Inside Soap magazine on your iPhone or iPad