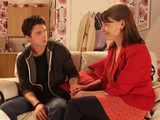 Feeling guilty that Michelle clearly misses Ryan, Sally suggests that she comes round to Number 4 so they can discuss the situation with her as referee, which Michelle is grateful for. Later, Sally's Supernanny-style summit begins and there's a result. Michelle and Ryan finally iron out their differences and Ryan decides he'd like to come home.
In The Rovers, Ryan tells Tracy his news and suggests they cool things for a bit until he's settled back in at home. Of course Tracy is having none of that. As she stews in the pub, she decides to pay Michelle and Ryan a visit and plays an ace card guaranteed to drive Michelle over the edge - announcing that she is pregnant...
Meanwhile, Ken insists yet again that there's nothing going on with Wendy, but Deirdre tells him firmly she wants him nowhere near the woman - he has to resign from the board of governors immediately. Ken arrives at Brian's office to officially resign and things get awkward when Wendy shows up unexpectedly. Both she and Brian concur that it's a pity they couldn't all be adult and move on from the past.
Later, Brian pleads with Deirdre as she is taking away his most valued governor. Deirdre stands firm, but Rita provides a voice of reason - maybe Brian has a point? Deirdre listens, but will she relent?
Elsewhere, Nick arrives at Roy's Rolls hoping to call a truce. However, when he makes some patronising comments about the café, Mary and Anna aren't impressed and tell him where he can shove his olive branch.
Also today, Kylie feels increasingly useless at the salon and her frustrations mount about not being able to give Max the right start in life, while Gloria encourages Stella to have a weekend away as she takes her first B&B booking.
The next episode of Coronation Street airs on Sunday, October 14.