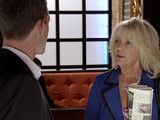 With Lewis still missing, having disappeared from the Eurostar on the way home, Audrey explains all to the police. She has also given a local newspaper interview in a plea to find him. When the Street reads the article in question, gossip about Lewis's dubious past and their turbulent relationship is rife.
At the same time, David shares his doubts about the true nature of Lewis's disappearance to Nick. Nick warns him not to air these when Audrey is in earshot. Later, however, he has a visitation at the Bistro from a mysterious stranger, alerted by the recent press coverage, who claims to be able to shed some light on Lewis's whereabouts!
Meanwhile, Ryan tells Michelle that regardless of her feelings on the subject, he's having a baby with Tracy and they're off to see a midwife to register the pregnancy. Later at the factory, Michelle is at her wits' end when she catches the factory girls gossiping about the complicated relationships between the Barlows and the McDonalds.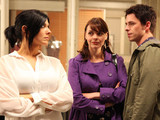 Rob steps in to stop Michelle from blowing her top as Ryan and Tracy arrive. Tracy makes Ryan apologise for all the trouble they've caused. He then announces his plans to prevent any further acrimony occurring - and they're far from what Michelle would have wanted to hear...
Elsewhere, Lloyd and Mandy have been getting on well, despite not hearing from Jenna. While they're sharing a moment reflecting on the past, Jenna finally turns up, having done some thinking. Will she agree to them all going out to dinner to talk things over?
Also, seeing how quiet the salon is, Nick asks Kylie if she'd like a job at the Bistro instead. As David struggles to hide his annoyance, will Kylie accept?
Finally, Mary gears up for a Russian theme night in honour of Emily's birthday, while Gloria's B&B guest has a nice surprise for her.