3
Soaps Spoiler
Lewis has a shocking idea for Audrey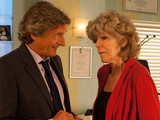 Aired Friday, Oct 19 2012 at 19:30 BST on
After a sleepless night, Audrey is alone in the salon when Lewis suddenly appears. As she demands to know where he's been, Lewis explains how he bumped into a woman on the Eurostar who he owes £10,000 to, so had no choice but to flee the train. He's shocked when Audrey reveals that she knows all about Penny as she came looking for him.
When it sinks in that Penny is here in Weatherfield, Lewis decides that he has to run away and he asks Audrey to go with him. Audrey eventually agrees, handing the salon master keys for David to a puzzled Kylie and Nick. Agreeing she's been acting strangely, the Platts head over to Audrey's house. How will they react to find Lewis there? And will Audrey be able to go through with her plan to leave?
Meanwhile, it's the morning after Tracy and Ryan moved into the flat, and Tracy makes breakfast. Michelle holds her tongue as Tracy keeps calling her Granny, but later explodes in front of Steve. Tracy catches the tail end of this and Steve sees how much she is relishing driving a wedge between him and Michelle.
When Steve later catches Tracy showing little interest in Ryan's conversation skills, his suspicions are piqued. Watching on, Beth wonders what exactly Tracy sees in Ryan. Will Tracy admit that her relationship with Ryan is all part of a plan?
Elsewhere, Lloyd tries to talk to Mandy about their near-kiss, but Mandy closes down the conversation and suggests it's time she moved out. Lloyd is gutted. Meeting up with Jenna, he listens to her explanation that a cosy dinner with Lloyd and her mum felt disloyal to her dad. Understanding, Lloyd suggests they all meet on neutral ground instead. Will Jenna agree?
Also, Mary is shattered but when Kylie makes disparaging remarks about Roy's Rolls, she is more determined than ever to outdo the Bistro and starts planning a Moroccan night.
Get the Inside Soap magazine on your iPhone or iPad