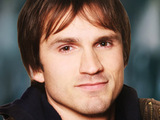 Eifion feels pushed to the periphery of life in Penrhewl as Cadno takes charge of little Bobi.
Meanwhile, Kevin realises that Debbie thinks of him as more than just a friend.
---
Mae Eifion yn teimlo ar y cyrion ym Mhenrhewl wrth i Cadno gymryd rheolaeth o fagwraeth Bobi.
Gwna Debbie i Kevin sylweddoli ei bod hi'n ei ystyried fel mwy na ffrind.