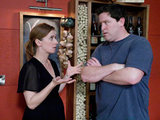 Damien and Suzanne meet in the street, but Damien snubs her. Lucy sees this and when she asks Wayne what happened to their marriage, Wayne betrays Damien's trust and tells her what Suzanne did. Later, Damien chats to Pete and admits that guilt drove him to try and be close to Suzanne. He tells him that he feels responsible for her miscarriage and doesn't want to cause her any upset now.
As the day continues, Damien bumps into Lucy but is angered when she tries to console him about his violent marriage. He storms down to Vinos and tells Suzanne that he wants a separation. She tries to talk to him, but he refuses to engage with her.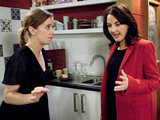 Suzanne tells a furious Yvonne that she expects her to cover for her pregnancy leave, as she did the same for her. Later, Suzanne and Yvonne fight again about the unborn baby. Suzanne realises that when she has the baby she'll need to move out of the flat, so she tells Yvonne that she's better off without her and storms off.
Meanwhile, Robert doesn't go for his daily lunch to McCoy's and Sash realises that she misses him. She asks Wayne to get Robert to come to McCoy's tonight. She tells Wayne that she doesn't want him to break his routine and later agrees to have a goodbye drink with Robert.
Elsewhere, Deegan is horrified to discover that the flat has become a 'shop' as Christy is selling things from the boxes, while Neasa and Dearbhla are forced to come to a compromise so the Halloween party can go ahead.