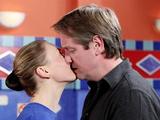 Lucy deflects Dolores's questions about how she knows Emily Mahon, a social worker who has new fostering placements in the area. Later, Lucy encounters Emily again and sets off the Hungry Pig's fire alarm to prevent Emily and Dolores from chatting. Emily twigs Lucy's stunt and the pair exchange a look.
An upset Lucy eventually admits to Dolores that she set off the fire alarm. Lucy then claims Emily used to bully her in college. Soon afterwards, Lucy meets with Emily by arrangement and asks Emily not to reveal her past, as she is scared of losing all she has gained since moving to Carrigstown. However, Emily urges her to be honest with people.
Meanwhile, Eddie continues to pretend that his luggage has been lost by the airline as he wears the same suit for three days. Val insists on talking to the airline personally, but discovers that they have no record of her son as a passenger. She's confused further when she learns that Eddie's cash card has been declined at the Hungry Pig. In the end, Val confronts Eddie and he confesses that he's bankrupt due to a corrupt business partner who left him penniless. Val takes the news on the chin and announces they will go shopping for new clothes for Eddie tomorrow.
Elsewhere, Tommy and Judith despair over Caoimhe's flippant attitude towards her brush with the law. Will an offer of financial support convince their wayward daughter to get her life back on track?
Also today, Orla is embarrassed when her shoplifting spree becomes very public knowledge, while Wayne surprises Paul with his know-how as a car salesman.