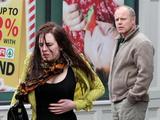 The Bishops take revenge on Caoimhe by setting her up for a fake criminal encounter. Caoimhe waits at Decco's flat as arranged, before opening the door to Goo Eyes. When Caoimhe lets Goo Eyes in, he throws a black hood over her head. Goo Eyes terrorises her with questions about Robbo, while Caoimhe pleads ignorance and begs for her life.
Zumo, Decco and Charlotte watch and listen from the balcony. Decco is appalled to hear Caoimhe offer him up to save her own skin. Goo Eyes soon removes the hood, revealing the hostile Bishops. Charlotte then pours a jug of cold water over Caoimhe's head, in payback for the humiliating incident at the community centre.
Meanwhile, Wayne admits to Laura that he is in love with Lucy but is shocked when Lucy - fearing she will lose her connection with Dolores - rejects his grand gesture.
Elsewhere, Orla is concerned that Dermot is becoming isolated, but when her attempt to set him up on a blind date misfires, how will this affect their already faltering friendship?