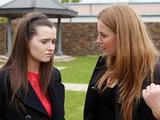 Louie blames Carol when the doctors refuse to be drawn on when Jack will be released from hospital. At the same time, Rachel confesses to Niamh that Charlotte was with her while she babysat Jack. Niamh then levels with Carol that Charlotte was in the flat on the night in question. Carol wants to summon Rachel and Charlotte now, but Louie overrides her. Carol is soon left devastated when Louie insists on being the parent who stays overnight with Jack, fearing that he no longer trusts her to mind her baby.
Meanwhile, Sash berates Charlotte for sneaking up to Carol and Louie's flat when Rachel was babysitting. Carol verbally attacks Charlotte, asking her to admit what happened, but Louie and Sash protect Charlotte from Carol's ire. Charlotte in turn attacks Rachel and inadvertently blurts out that Jack fell when Rachel was out of the room. Charlotte threatens to set her brothers on Rachel if she tells the truth.
Elsewhere, Val is relieved when everyone forgives her for the betting ruse and they join her for lunch. However, Val dislikes it when Eddie turns the conversation around to risk and betting, flattering Christy for his entrepreneurial drive. Later, Val opens up to Christy about Eddie's father Mick's gambling addiction which left her penniless and in debt.
Also today, Tommy has lunch with his family at McCoy's, but they are interrupted when Luke walks over and introduces himself. The Dillon sisters are bemused by the arrival of their long-lost uncle and Luke soon charms them. However, things goes awry when Luke brings up the farm again and Tommy blurts out that he lost the farm due to bad investments on his part.