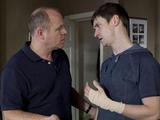 Pete convinces Neil to see a doctor. Judith discovers that Neil's injury is far more serious than he was letting on, and definitely not the by-product of a fridge door accident as he initially claimed. Neil covers and begrudgingly accepts a mere one-week prescription for painkillers. Later, Neil relishes winding up Orla, who is none too pleased that Pete is going to stay at Dolores's place and donate his room to Neil. Neil also asks a couple of locals round to 'his' place later for drinks. Caoimhe is delighted to give Neil her number.
At the party, Neil and Caoimhe flirt outrageously. As the night continues, Pete confronts Neil about his hand injury and Neil confesses that he had a physical fight with the head chef in London - during which he got stabbed in the hand, while the chef ended up in hospital. Neil admits that he won't be returning to London because his reputation there is destroyed.
Meanwhile, Dolores is supportive of Laura's budding romance with Emily. Laura and Emily's date begins awkwardly, with false starts and interruptions. Emily admits that she wants to keep the fact that she's gay quite separate from her professional dealings. But as the date goes on, Laura and Emily find their comfort zone.
Elsewhere, Neasa is left holding the reins at the Station as Finn shows no interest in saving his business, Judith tells Luke that he doesn't have to leave, while Yvonne feels the spark between herself and Luke.