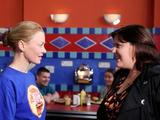 Laura senses something is amiss with Emily and arranges for them to have a heart-to-heart. Lucy reiterates her threat to Emily when she sees her and seems to be getting bolder by the day. Soon afterwards, Laura is gutted when Emily breaks it off with her. Emily is upset when Laura presses her, but feels she can't explain further. Later, a devastated Laura blames Wayne and Damien for making Emily feel unwelcome, suspecting that's the reason behind the break-up.
As the day continues, Lucy shares her story of Emily's bullying with Laura, who doesn't quite believe her. Emily then drops in to see Lucy at work and advises her to see her doctor and resume medication. Lucy enlists Bob's 'protection', while piling on further threats to have her removed from the Hungry Pig for harassment and then tell the police about their fictional sordid past.
Meanwhile, Carol is annoyed that Louie keeps electing to keep Jack home from crèche to increase their quality time levels. Later, Dermot plants a seed with Louie that unmarried fathers are not entitled to fight for custody in Ireland. Louie then offers Carol the chance to select where in the States she would like to marry instead of Boston and she chooses Vegas.
Elsewhere Dolores insists that Pete should stay with her until his back is better, while Rachel declines a date with an eager Graham.