0
Soaps Spoiler
Luke comes between Eddie and Neasa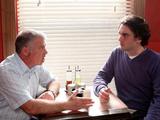 Aired Thursday, Jul 26 2012 at 20:00 BST on RTÉ One
Eddie informs Val that a friend of his has lent him money to start a new business without naming said friend. Relieved that Luke has agreed not to say anything about his past, Eddie asks Neasa out for lunch. But when Val lets it slip to Luke about Neasa's and Eddie date, Luke is concerned, not believing Eddie is good enough for his niece.
Luke gives Eddie an ultimatum - end it with Neasa or the deal is off. Luke also warns Neasa to steer clear of Eddie. When Eddie tells Neasa things are getting complicated for him, she's annoyed and tells him she doesn't want to be messed around.
Tommy and Luke both give Sean some money for emergencies in Canada. Sean tries to persuade them to give it to Dearbhla directly but they both say they feel better knowing Sean is going with her, leaving Sean feeling conflicted and guilty. Tommy invites Luke to 'leaving drinks' for Dearbhla and acknowledges his brother's help with Zak. Dearbhla and Sean pretend to everyone that they are still a couple at The Station. As the young pair heads off to the airport, Christy promises Sean his job will still be there for him in a few weeks.
Meanwhile, Neil impresses everyone with his food during the trial at Vinos and Yvonne agrees to give him a job. Pete apologises again to Damien about the money, promising it will never happen again.
Elsewhere, Wayne confronts Decco, accusing him of using his leaflet-delivering business as a cover for looking at houses to rob. They get into an argument with Tommy backing Wayne up. Decco accuses Wayne of slander and looks to Eddie for support but he walks away leaving Decco angry. Decco later confronts Eddie about not standing up for him. Eddie tells Decco to stop being a sucker and set up his own business, if he wants any respect, rather than delivering leaflets for others.
Get the Inside Soap magazine on your iPhone or iPad