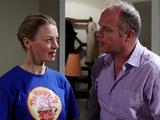 Paul is relieved when Wayne accepts his offer of a month's trial managing the garage. Wayne is delighted and buys flowers for Lucy and his mum, which he presents to them while breaking the news. Wayne also asks Lucy to move in with him again and she finally agrees. Soon afterwards, Lucy feels increasingly dissatisfied and panicky as Dolores shares the news with Pete. When Dolores is out, Lucy and Pete spar - showing their true hostility towards each other.
Later, Lucy feigns distress in front of Wayne over how Pete has been treating her. Lucy tells Wayne that she called out Pete over faking the back injury and Pete lost his temper, telling her how he would turn Wayne and Dolores against her. A fuming Wayne takes a break from work to confront Pete about his alleged threat to Lucy and indeed his fake back injury. However, Dolores arrives and interrupts before Wayne and Pete can clarify their positions.
Meanwhile, Yvonne finally tells Niamh about the Rachel situation. At the same time, Rachel is displeased when she finds out that Charlotte is planning to play gooseberry throughout her illicit date night at The Station. Later, Rachel is turned away by the bouncer and she is hurt when Graham continues on through the doors with Charlotte, instead of walking her home.
Yvonne and Niamh then find Rachel at home, feeling sorry for herself. Niamh's relief lets Rachel know that Yvonne has broken her confidence about sleeping with Graham. Yvonne and Niamh are delighted when Rachel says that she never wants to see Graham again. Back on the night out, Charlotte kisses Graham and convinces him to take her home with him…
Elsewhere, Sash agrees to go on another date with Neil, while Cass devises strategies to obtain free parking but they backfire.