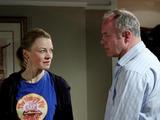 Dolores is tempted to reconcile with Lucy just for Wayne's sake. At the same time, Wayne is delighted that Lucy is now staying with him, but she still hankers to be back living with Dolores. Later, Dolores builds a bridge with Lucy, but baulks at allowing her to move back in as she requests. Tensions soon explode when Wayne goes a step too far by calling Pete nasty names and they nearly come to blows.
As the day continues, Pete and Dolores try again to celebrate when Pete gives Dolores her engagement ring. However, the mood turns sour when Lucy goes to Molloy's to pick up the rest of her stuff. As she and Pete clash again, Lucy reiterates her threats to destroy Pete…
Meanwhile, Deegan continues to check Decco's driver's license whenever he sees him, which Decco perceives as harassment. At the same time, Judith gives Vivienne grief for using Decco's courier company, given what happened between Decco and Caoimhe. Judith makes it clear that Vivienne's job is on the line. As the day continues, Deegan lets Eddie know that he's aware of Eddie's recent prison time. Deegan tries to use this information as leverage to get Decco fired from Chariot, but Eddie holds firm.
Elsewhere, Charlotte lies about what happened with Graham to get back at Rachel, but is shocked when Sash points out the repercussions.