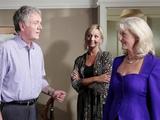 Bob tells Christy that today is the two-year anniversary of his revenge plan against Louie. Bob then reminds Louie of the date, and demonstrates how very pent up he is to take his revenge. At the same time, Renee begins to catch up on the local gossip and is interested to hear whether Bob is single or not. Soon afterwards, Bob is shocked when Ingrid opens the door to Renee. He seems quite captivated by Renee's reappearance and is solicitous towards her, describing Ingrid as his lodger.
Later, Louie threatens Bob that he will run him out of town once more, if Bob continues to cross him. The warring pair soon amplify their hostilities as Renee listens, noting that Bob will never change. When Louie and Bob square up to each other, Renee leaves in disgust. Bob is furious that Louie has bested him once again.
Meanwhile, Lucy offers Wayne supportive hints over how to manipulate Paul into yielding the management of the garage to him. Wayne is later left furious with Keith when he causes an accident whereby Lucy gets iron filings in her eye. Judith helps Lucy clean her eye and Wayne covers the doctor's fee. Afterwards, Wayne mentions to Judith that Lucy had a cornea transplant some years back. Judith says Lucy did not mention this.
As the day continues, Lucy needles Paul to clarify Wayne's management position at the garage. Paul admits that he has a contract ready for Wayne to sign, but is unimpressed with Lucy's meddling.
Elsewhere, Maeve is impressed when Dermot takes the initiative to hold a school fundraising cake sale at the community centre, while Kelly is delighted to get a week's trial behind the till at Phelan's and covers her non-attendance at school.