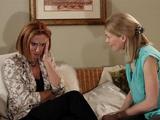 Lucy is unsettled when she realises that Wayne told Judith about her cornea transplant. Judith asks Lucy to come to her surgery because she will need extra care given her operation history. Lucy is alarmed further when Dolores wants to accompany her to Judith's surgery. Lucy cannot answer Judith's questions about the date of her cornea transplant operation and the name of her consultant. She gets agitated and leaves hastily, trying to pass it off as anxiety - but Judith is intrigued.
Dolores is extremely concerned and starts to put pressure on Lucy, knowing that she is hiding something. Under pressure from Dolores, Lucy reveals that she never had the corneal transplant, which she'd previously led Dolores to believe her deceased daughter Jessica had donated her corneas to. Dolores is dumbfounded and asks Lucy what else she has been lying about!
Meanwhile, Louie takes the first opportunity to tell Renee that Bob stole money from a dying man in a wheelchair - none other than Renee's old flame Turlough. Renee is distraught to hear this, so she confronts Bob and old wounds are promptly reopened. Eventually, Bob and Renee decide to leave the past behind and move on, with Bob mooting the caveat that perhaps they shouldn't work together on her new wine venture after all, to preserve the relationship. Renee says that she hopes Bob doesn't live to regret this decision, and he is taken aback.
Elsewhere, Paul backs Wayne by firing Keith, while Dermot is concerned when he realises that Kelly's new job is full time and that she is planning to secure custody of her sister.