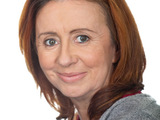 Wayne urges Lucy to tell Dolores that there is no baby, as Dolores is gearing up to tell her friends the exciting news. Dolores then confides in Pete that Lucy is pregnant. When Dolores shows up with a pair of booties, Wayne finally blurts out the truth. Dolores walks out and Wayne comforts a distraught Lucy.
Later, Wayne tries to soften Dolores up on Lucy. Dolores also reveals her disappointment to Pete, who is sympathetic. Dolores inadvertently hurts Wayne when she speaks of her yearning for a grandchild. Lucy tries to make it up to her, but Dolores insists that Lucy should look after Wayne.
Meanwhile, Renee and Louie continue their feud over wine and rent. Renee's business venture suffers because she has no wine samples. Bob decides to help her out in getting her wine back and get one up on Louie. Later, Louie drops a case of Renee's wine over to The Station, much to Neasa's surprise. Bob offers to buy Renee's wine back from Louie, but it's to no avail. Bob threatens Louie and continues to ingratiate himself with Carol by offering to cover her shift.
Elsewhere, Judith feels guilty about keeping her secret from Tommy, while Dermot asks Maeve to teach salsa to him and Esther.