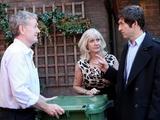 Bob schemes with Renee to steal her wine back from Louie while serving at McCoy's when Carol and Louie are out doing errands. Renee gets nervous about the plan, but Bob forges on. Bob and Renee pull off their daring stunt, laughing and bonding. Renee has to stall Louie for fear he will catch Bob red-handed. Renee steps behind the bar to serve a drink when Louie comes in and asks her what she thinks she's doing. Louie expresses his disgust with Bob and Renee haunting his premises.
Later, Bob and Renee savour their triumph, although Renee fears Louie will kick her out of the apartment when he finds out. Bob suggests that Renee should launch the wine at Phelan's so when Louie comes in for a tasting and discovers he's drinking his own stash, he will be humiliated.
Meanwhile, Laura confronts Lucy about the bogus baby. Lucy makes homophobic and vicious remarks to Laura, who is a little shaken in spite of herself. Laura confides the incident in Pete. Laura and Pete then form a new alliance to oust Lucy and her pernicious influence. Pete lets Lucy know he and Laura are onto her and they will be very strategic in their moves.
Elsewhere, Dermot, Maeve, Esther and Charlie practice their dance moves over at Maeve's place and decide to throw a salsa night at the Community Centre, while Luke feels it's necessary to let Neasa know he's boss.