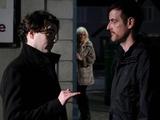 Sash offers a sympathetic ear to Decco's stress when he worries that he's not good enough for the job. Soon afterwards, Sash is shocked to meet old acquaintance Collie, and is horrified to learn that he is doing business with Eddie and Decco. Esther learns that Collie gave Sash's mother drugs and helped her addiction. Sash wants nothing more to do with him.
Later, Sash chats to Eddie about Collie. He pretends to be horrified about the visit and promises that he knows nothing about it. Sash also tells a horrified Decco that Collie is around and learns that he is the person who tried to kill him in prison. Eddie reassures a frightened Decco that Collie will stay away from him. He leaves Decco and secretly meets Collie, telling him to stay away and that he almost blew their cover. A shocked Sash watches Eddie and Collie talk and realises that they know each other.
Meanwhile, Dermot and Maeve cannot help but catch every opportunity to be passionate with one another. However, Ben asks why she was staying in daddy's bed. Orla urges Dermot to come clean to Ben about dating Maeve. Ben later embarrasses Dermot and Maeve when he shouts out at the school gates that Maeve was in daddy's bed.
Elsewhere, Paul lies to Niamh about his job and how well he's doing. Later, an exhausted Paul arrives home and rejects Niamh's amorous advances. This upsets Niamh, who thinks he's no longer interested in her. Paul falls asleep on the couch and forgets to collect Ruth. A furious Niamh arrives home and they have a huge fight, which leads to Paul storming out. Paul then takes a strange phone call from a woman and hides it from Niamh.
Copyright: RTÉ