Last week's poll produced some interesting results. I asked: '
Should Ken be with Deirdre or Martha?
'
Interestingly, there are mixed feelings among viewers about Ken's (
William Roache
) ideal woman. Some 44.7% of voters believe that our Kenneth should stick around at the Barlows' with Deirdre (Anne Kirkbride) and her cantankerous, yet absolutely priceless mother Blanche (Maggie Jones). However, 37.0% think Ken should float away with 'Captain Crumpet' - Peter Barlow's (Chris Gascoyne) words, not mine!
The remaining 18.2% don't think either Deirdre or Martha are good enough. Dare I ask who on the Street you'd pair him with?!
Moving swiftly on to this week's poll, which has the topic of soap returnees...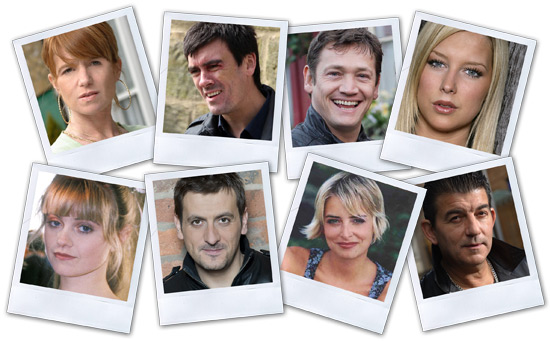 We've had quite a few soap returnees of late, haven't we?
While some viewers think it's the best thing since sliced bread, others question whether it's right to crack open the history books and revive old faces.
EastEnders
has drafted back
Ricky Butcher
(Sid Owen),
Bianca Jackson
(Patsy Palmer),
Nick Cotton
(John Altman),
Janine Butcher
(Charlie Brooks) and we have
Sam Mitchell
(Danniella Westbrook) to look forward to in the summer.
Emmerdale
's thankfully managed to draft
Cain Dingle
(Jeff Hordley) back into the show, while Emma Atkins is also on her way back to Yorkshire as
Charity Tate
.
Meanwhile,
Coronation Street
brought back
Peter Barlow
(Chris Gascoyne), while
Hollyoaks
' new producer Lucy Allan decided to resurrect
Clare Devine
(Gemma Bissix), with the promise of "one other surprise for later on this year".
Producers seem to love delving into their soap's history to revive old, established favourites and personally, if there's a good enough story to justify a return - and it's more than a fleeting visit! - I don't see how it can harm. Granted, though, there is the potential to ruin a character during and after the comeback process...
But what do you think? Cast your vote using the voting box below and don't forget you can tell me your views using the usual form below.