So last week, I mused
Who should Bradley be with?
in
EastEnders
and boy, did you turn out in force.
Unsurprisingly, more than half the votes cast (56.4%) were in favour of a Bracey reunion, opting that our Bradders (Charlie Clements) should rekindle his romance with Stacey (Lacey Turner). Meanwhile, 28.6% of those polled think Bradley should continue in his relationship with newcomer Syd (Nina Toussaint-White).
The remaining 15% can't see what the wannabe entrepreneur sees in either of them and chose the 'Someone Else' option.
I'm of the belief that Bradley should go it alone for a while, as is the man himself. Speaking to me
last week
, Charlie said: "To be honest, at the moment, I'd quite like to see him floating around on his own. We've never really seen Bradley not in a relationship. As soon as he arrived, he was thrown into the relationship with Stacey and now that's broken up, he's straight back into another one with Syd. We've never really seen him go 'out there'. I'd quite like to see him go to a dark place to be honest and maybe go a bit off the rails…"
> Click here to read the full interview with Charlie Clements
Moving swiftly onto this week's poll now, where I'm about to shake the proceedings up a little. This week, there's not one but, TWO votes for you to deliberate over. The first asks 'Did
Hollyoaks
' Stunt Week live up to the hype?' while the second ponders 'What do you think of
EastEnders
' gay Muslim storyline?'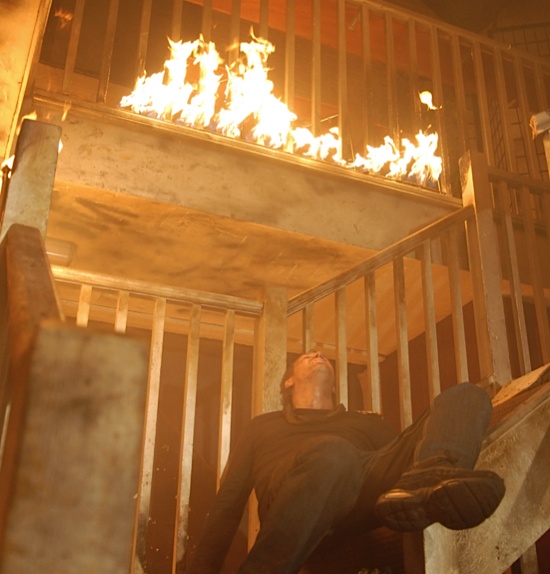 So first to
Hollyoaks
' Stunt Week 2009. Was it as good as the production house Lime Pictures had us believe? Unfortunately, I didn't manage to see - and therefore review - the episodes prior to transmission due to a faulty DVD! I kid you not. Imagine getting through to the end of episode three of the week, only to find the remaining two (most important) episodes wouldn't play. I digress...
Having finally seen them, I couldn't help but think that it was a tad anti-climactic. Don't get me wrong, though, Jamie Lomas's final performance as Warren was outstanding and certainly dominated the week. Storyline-wise, Warren definitely bowed out on a high, too. I always look for that little something different in a soap death and as I
mentioned
yesterday, being squashed by The Loft's mirror was sheer genius.
Meanwhile, Gemma Bissix's effortless portrayal of evil thoroughbred Clare Devine - complete with those red high heels - was as superb as ever.
Earlier in the year
, I was a little miffed as to why the producers decided to bring Clare back as opposed to Louise (Roxanne McKee), but then I
found out why
.
That said, however, the fire just didn't look 'real' for some reason. Granted, I know there are probably a raft of health and safety laws which prevent production teams from throwing actors into a blazing room - and obviously anything short of that will look slightly unreal - but still...There was just something about the scenes that didn't quite feel right. That combined with the episode's over-use of an annoying piece of classical violin music throughout made for a slightly annoying watch.
However, Clare's solitary red high heel in the burning rubble, Warren's final reflection shot in the mirror, the mirror death scene, Warren's conveniently placed wreath and the decision to fade to black without the jazzy show theme were the finishing touches to a mostly superb episode.
But what did you think? Cast your vote using the usual form below!
And finally to
EastEnders
'
latest controversial plot
...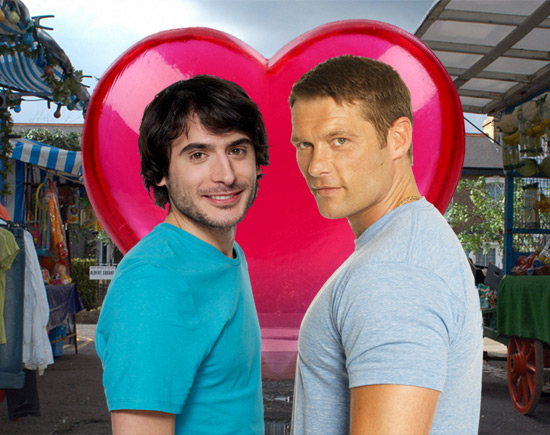 As I'm sure you
read yesterday
, Walford's Muslim property developer Syed Masood (Marc Elliott) is to become embroiled in a gay love affair with Albert Square's only openly-gay character Christian Clarke (John Partridge). The story begins towards the end of next month when Syed kisses an unsuspecting Christian. From then on, Syed will be faced with an extremely tough battle between his faith and feelings.
Last year, nearly 150 viewers
complained
to Ofcom when
EastEnders
broadcast a gay kiss between Christian and his then-lover Lee Thompson (Carl Ferguson). So what of this plot? Do you agree with the decision to explore such a taboo subject? Is it a socially-aware storyline that should be written about and watched?
Let me know your opinion by using the usual voting panel below.