Joe McIntyre's funeral in
Coronation Street
is far from a quiet affair - mind, you wouldn't really expect anything less in soapland, would you?
Convinced that Gail's somehow responsible for her father's death, Tina bans her from the service. Eventually, she backs down and allows Gail to pay her final respects. At the church, though, Tina struggles to cope and opts to wait outside until the end.
Jason eventually convinces her to say goodbye to Joe properly but on her return inside, a fraught argument with Gail ensues.
Speaking to me last week, actress
Michelle Keegan
said: "Tina's in shock from beginning to end. She stands in the church looking at the coffin and can't quite believe that she's at her dad's funeral. She looks over to Gail and sees her singing and the whole situation just becomes too much for her and she runs out."
She continued: "Tina's supposed to do a eulogy but she runs out. When she goes back inside, Gail's reading her eulogy and Tina flips. In front of everyone, she accuses Gail of killing Joe."
David's about to rush to his mother's side but Jason ends up holding him back.
> Click here to read my recent interview with Michelle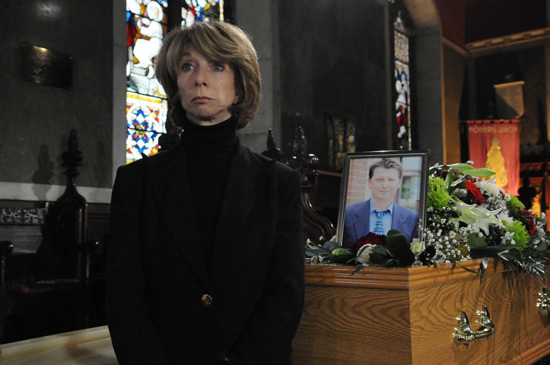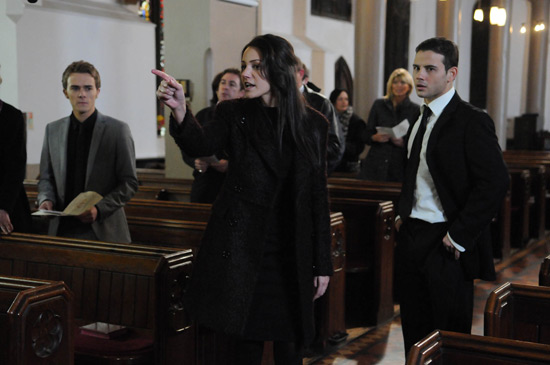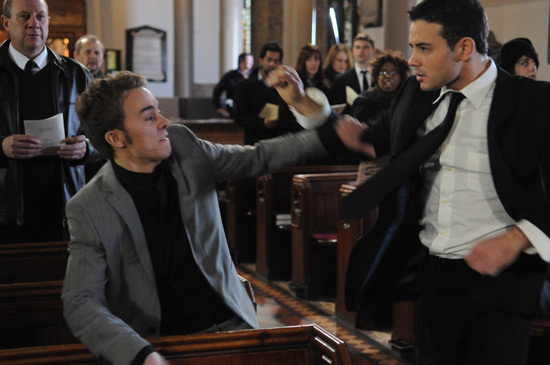 These scenes air on Monday, March 15 at 7.30pm and 8.30pm on ITV1.
Over in
Hollyoaks
, Rhys and India fall into each other's arms when she confides in him about how difficult she's finding life since the car accident.
Torn between his heart and his head, Rhys reluctantly gives in to temptation and the pair share a kiss - just as Josh walks in. Furious to see them together, Josh lashes out at his brother.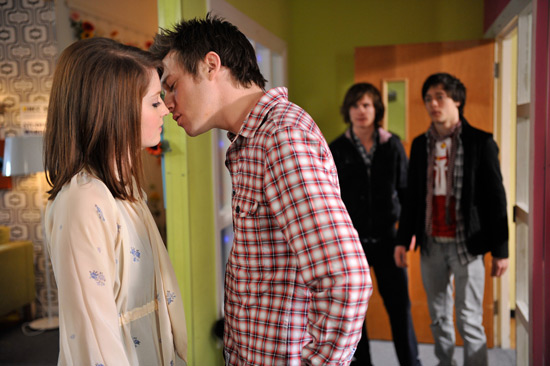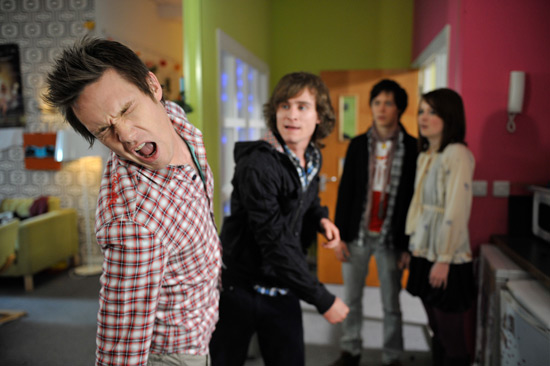 These scenes air on Monday, March 15 at 6.30pm on Channel 4.
Meanwhile, after a busy day scamming Spencer, Lauren and Gaz finally get to spend some quality time together when she invites him back to the Valentines' for some afternoon delight. They finally manage to sleep together for the first time but their elation is marred by the arrival of Calvin, who walks in on the pair who are still half-naked.
Livid to see them in such an uncompromising position - and presuming that Gaz has taken advantage - Calvin throws Gaz out.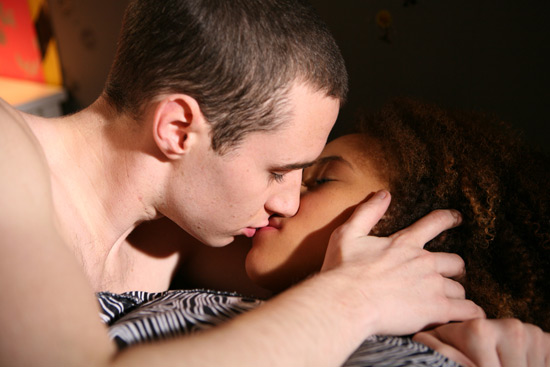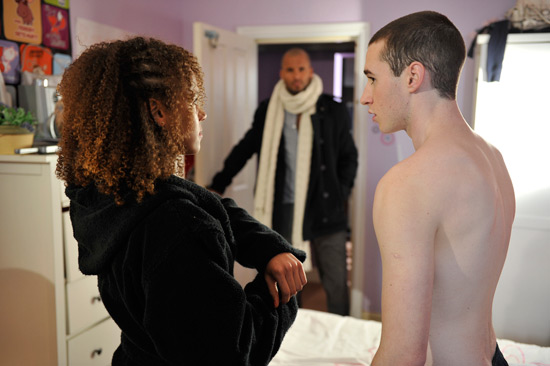 These scenes air on Tuesday, March 16 at 6.30pm on Channel 4.
Meanwhile,
Emmerdale
's queen Dingle Lisa's left crushed (not literally) in a few weeks' time when she's sentenced to eight weeks' imprisonment following the ordeal with the police last month.
For those who can't remember, she
punched
an officer, before being arrested for assault and possession of stolen goods.
(She actually thought the police were trying to arrest Olena for being an illegal immigrant...)
How will the Dingles cope without her?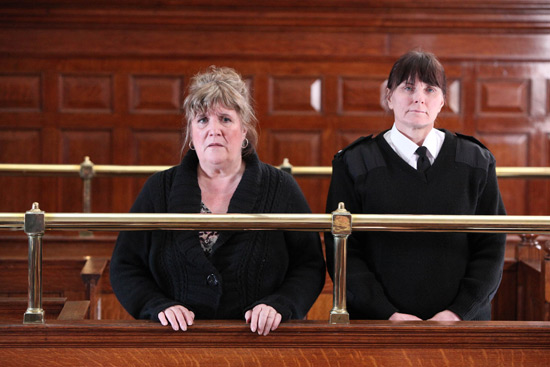 These scenes air on Tuesday, March 16 at 7pm on ITV1.
And finally,
EastEnders
' Lucy isn't impressed in the slightest when her father and stepmother Ian and Jane inform her that they've taken her out of school owing to her pregnancy.
She's further enraged when she learns that Ian will be homeschooling her.
Will Lucy really go through with her pregnancy?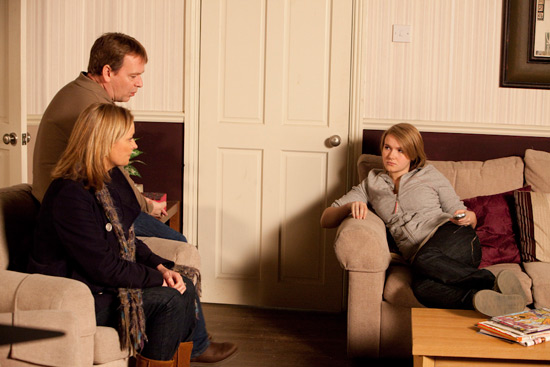 These scenes air on Tuesday, March 16 at 7.30pm on BBC One.
Let me know your views on the above using the usual form below!