6
Soaps Soap Scoop
Inside Soap Awards 2007: The Nominations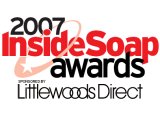 Nominations for this year's Inside Soap Awards were released today. So, I thought I'd do my soap duty and bring my readers the full list of nominations.
Whether you sit there and analyse the categories or whether you just stick a pin in - here's the complete list. And don't forget; everyone who votes is automatically entered into a draw to win a VIP trip to the awards themselves - hotel and transport indcluded... very swanky, indeed.
If you're like me and don't really like having to do anything (no, not just in general) to vote, you don't even have to move from your computer. All you have to do is click
here
to open the voting form. Don't worry, the link's at the end of the nominations list, too!
And if, for some reason, you're not computer savvy (then, I honestly don't know how you're reading this) but you
can
vote by post. Pick up a copy of the latest magazine and the voting form's in the middle. Completed nomination forms (photocopies accepted) should be sent to:
2007 Inside Soap Awards, 64 North Row, London W1K 7LL
.
Voting closes on
Friday, August 17
with the winner being announced at the annual party in London on
Monday, September 24
.
Here we go...
Best Actor
ANTONY COTTON
(Sean Tully, Coronation Street)
JACK P SHEPHERD
(David Platt, Coronation Street)
CHARLIE CLEMENTS
(Bradley Branning, EastEnders)
JAKE WOOD
(Max Branning, EastEnders)
MARK CHARNOCK
(Marlon Dingle, Emmerdale)
JEFF HORDLEY
(Cain Dingle, Emmerdale)
CHRIS FOUNTAIN
(Justin Burton, Hollyoaks)
JAMES SUTTON
(John Paul McQueen, Hollyoaks)
MARK FURZE
(Ric Dalby, Home and Away)
RAY MEAGHER
(Alf Stewart, Home and Away)
STEFAN DENNIS
(Paul Robinson, Neighbours)
ALAN FLETCHER
(Karl Kennedy, Neighbours)
Best Actress
JENNIE MCALPINE
(Fiz Brown, Coronation Street)
KYM RYDER
(Michelle Connor, Coronation Street)
KARA TOINTON
(Dawn Swann, EastEnders)
LACEY TURNER
(Stacey Slater, EastEnders)
LINDA THORSON
(Rosemary King, Emmerdale)
CHARLEY WEBB
(Debbie Dingle, Emmerdale)
GEMMA BISSIX
(Clare Cunningham, Hollyoaks)
CLAIRE COOPER
(Jacqui Malota, Hollyoaks)
AMY MATHEWS
(Dr Rachel Armstrong, Home and Away)
KATE RITCHIE
(Sally Fletcher, Home and Away)
ELIZA TAYLOR-COTTER
(Janae Hoyland, Neighbours)
JACKIE WOODBURNE
(Susan Kinski, Neighbours)
Click 'next' for more!
Sexiest Male
ROB JAMES-COLLIER
(Liam Connor, Coronation Street)
RYAN THOMAS
(Jason Grimshaw, Coronation Street)
CHARLIE CLEMENTS
(Bradley Branning, EastEnders)
ROB KAZINSKY
(Sean Slater, EastEnders)
TOM LISTER
(Carl King, Emmerdale)
MATTHEW WOLFENDEN
(David Metcalfe, Emmerdale)
JAMES SUTTON
(John Paul McQueen, Hollyoaks)
RICKY WHITTLE
(Calvin Valentine, Hollyoaks)
PAUL O'BRIEN
(Jack Holden, Home and Away)
RHYS WAKEFIELD
(Lucas Holden, Home and Away)
DAVID HOFLIN
(Oliver Barnes, Neighbours)
DAN O'CONNOR
(Ned Parker, Neighbours)

Best Bad Boy
JACK P SHEPHERD
(David Platt, Coronation Street)
BILL WARD
(Charlie Stubbs, Coronation Street)
ROB KAZINSKY
(Sean Slater, EastEnders)
JAKE WOOD
(Max Branning, EastEnders)
CHRIS CHITTELL
(Eric Pollard, Emmerdale)
MATT HEALY
(Matthew King, Emmerdale)
CHRIS FOUNTAIN
(Justin Burton, Hollyoaks)
JAMIE LOMAS
(Warren Fox, Hollyoaks)
CALLAN MULVEY
(Johnny Cooper, Home and Away)
STEFAN DENNIS
(Paul Robinson, Neighbours)
SCOTT JOHNSON
(Terrence Chesterton, Neighbours)

Best Bitch
ALISON KING
(Carla Connor, Coronation Street)
WENDI PETERS
(Cilla Battersby-Brown, Coronation Street)
AMANDA DREW
(Dr May Wright, EastEnders)
SOPHIE THOMPSON
(Stella Crawford, EastEnders)
LORRAINE CHASE
(Steph Stokes, Emmerdale)
LINDA THORSON
(Rosemary King, Emmerdale)
GEMMA BISSIX
(Clare Cunningham, Hollyoaks)
JENNIFER METCALFE
(Mercedes McQueen, Hollyoaks)
ALEXA ASHTON
(Kelli Vale, Home and Away)
HOLLY BRISLEY
(Amanda Vale, Home and Away)
NATALIE BASSINGTHWAIGHTE
(Izzy Hoyland, Neighbours)
PIPPA BLACK
(Elle Robinson, Neighbours)

Click 'next' for more!
Sexiest Female (in association with Littlewoods Direct)
TINA O'BRIEN
(Sarah Platt, Coronation Street)
SAMIA SMITH
(Maria Sutherland, Coronation Street)
KARA TOINTON
(Dawn Swann, EastEnders)
LACEY TURNER
(Stacey Slater, EastEnders)
JENNA-LOUISE COLEMAN
(Jasmine Thomas, Emmerdale)
SAMMY WINWARD
(Katie Sugden, Emmerdale)
ROXANNE MCKEE
(Louise Summers, Hollyoaks)
JENNIFER METCALFE
(Mercedes McQueen, Hollyoaks)
JODI GORDON
(Martha MacKenzie, Home and Away)
JESSICA TOVEY
(Belle Taylor, Home and Away)
NATALIE BLAIR
(Carmella Cammeniti, Neighbours)
NICKY WHELAN
(Pepper Steiger, Neighbours)

Best Young Actor
SAM ASTON
(Chesney Battersby-Brown, Coronation Street)
BROOKE VINCENT
(Sophie Webster, Coronation Street)
JAMIE BORTHWICK
(Jay Brown, EastEnders)
CHARLIE G HAWKINS
(Darren Miller, EastEnders)
EDEN TAYLOR-DRAPER
(Belle Dingle, Emmerdale)
LUKE TITTENSOR
(Daz Hopwood, Emmerdale)
ELLIS HOLLINS
(Tom Cunningham, Hollyoaks)
INDIANA EVANS
(Matilda Hunter, Home and Away)
RHYS WAKEFIELD
(Lucas Holden, Home and Away)
SAM CLARK
(Ringo Brown, Neighbours)
CAITLIN STASEY
(Rachel Kinski, Neighbours)

Best Newcomer
ROB JAMES-COLLIER
(Liam Connor, Coronation Street)
ALISON KING
(Carla Connor, Coronation Street)
JO JOYNER
(Tanya Branning, EastEnders)
ROB KAZINSKY
(Sean Slater, EastEnders)
JOSEPH GILGUN
(Eli Dingle, Emmerdale)
LINDA LUSARDI
(Carrie Nicholls, Emmerdale)
GERARD MCCARTHY
(Kris Fisher, Hollyoaks)
GEMMA MERNA
(Carmel McQueen, Hollyoaks)
BOB MORLEY
(Drew Curtis, Home and Away)
CHRIS SADRINNA
(Brad Armstrong, Home and Away)
BEN LAWSON
(Frazer Yeats, Neighbours)
NATALIE SALEEBA
(Rosetta Cammeniti, Neighbours)

Funniest Performance
MAGGIE JONES
(Blanche Hunt, Coronation Street)
ANDREW WHYMENT
(Kirk Sutherland, Coronation Street)
JOHN BARDON
(Jim Branning, EastEnders)
RICKY GROVES
(Garry Hobbs, EastEnders)
CHARLIE HARDWICK
(Val Lambert, Emmerdale)
EMILY SYMONS
(Louise Appleton, Emmerdale)
GEMMA MERNA
(Carmel McQueen, Hollyoaks)
ASHLEY TAYLOR DAWSON
(Darren Osborne, Hollyoaks)
LYN COLLINGWOOD
(Colleen Smart, Home and Away)
LYNNE MCGRANGER
(Irene Roberts, Home and Away)
TOM OLIVER
(Lou Carpenter, Neighbours)
IAN SMITH
(Harold Bishop, Neighbours)

Click 'next' for more!
Best Couple
MICHELLE CONNOR AND STEVE MCDONALD
(Coronation Street)
SARAH PLATT AND JASON GRIMSHAW
(Coronation Street)
DOT AND JIM BRANNING
(EastEnders)
STACEY SLATER AND BRADLEY BRANNING
(EastEnders)
VIV AND BOB HOPE
(Emmerdale)
KELLY WINDSOR AND JIMMY KING
(Emmerdale)
AMY BARNES AND JOSH ASHWORTH
(Hollyoaks)
JOHN PAUL MCQUEEN AND CRAIG DEAN
(Hollyoaks)
DR RACHEL ARMSTRONG AND KIM HYDE
(Home and Away)
SALLY FLETCHER AND BRAD ARMSTRONG
(Home and Away)
CARMELLA CAMMENITI AND OLIVER BARNES
(Neighbours)
SUSAN KINSKI AND KARL KENNEDY
(Neighbours)

Best-Dressed Soap Star (in association with Littlewoods Direct)
Open nominations - you choose!

Best Storyline
CHARLIE'S MURDER AND TRACY ON TRIAL
(Coronation Street)
LEANNE'S PROSTITUTION AND PAUL'S DEATH
(Coronation Street)
MAY ATTEMPTS TO BUY DAWN'S BABY
(EastEnders)
STELLA'S TORMENT OF BEN
(EastEnders)
CAIN AND SADIE'S EXIT
(Emmerdale)
TOM KING'S MURDER
(Emmerdale)
CLARE TRIES TO KILL MAX
(Hollyoaks)
JOHN PAUL FALLS FOR CRAIG AND COMES OUT AS GAY
(Hollyoaks)
JACK AND MARTHA'S WEDDING DAY RUINED BY THE STALKER
(Home and Away)
SALLY'S STABBED BY ROCCO
(Home and Away)
KARL AND SUSAN'S LONDON WEDDING
(Neighbours)
KERRY'S LEUKAEMIA AND STINGRAY'S DEATH
(Neighbours)

Best Drama
BAD GIRLS
CASUALTY
DOCTORS
HEARTBEAT
HOLBY BLUE
HOLBY CITY
THE BILL
THE ROYAL
WHERE THE HEART IS

Best Soap (in association with Littlewoods Direct)
CORONATION STREET
EASTENDERS
EMMERDALE
HOLLYOAKS
HOME AND AWAY
NEIGHBOURS

So, there we have it. And now that you've had chance to digest everything, here's that link again to vote. Get the Inside Soap magazine on your iPhone or iPad