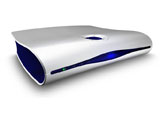 Analysts are losing confidence in Sky's ability to reach its target of 10m subscribers by the end of 2010.
After making 406,000 net additions in 2006/7, the firm must continue attracting the same figure annually to meet its declared aspiration.
However, Sky's 2007/8 results, to be released at the end of this month, will reportedly come in at around 380,000.
A new estimate from Dresdner Kleinwort predicts the company will have 9.7m subscribers at the end of 2010, JP Morgan says 9.9m and Credit Suisse puts Sky "slightly" off the target.
Morgan Stanley also issued revised guidance this week which predicted 398,000 additions in 2008/9, 386,000 in 2009/10 and 357,000 in 2010/11. The bank said: "This implies BSkyB will fall slightly short of its target of 10m DTH subscribers by the end of 2010." Morgan Stanley said the company remained "structurally sound", however.
Enders Analysis believes Sky will still make the 10m but struggle to get above 11.5m subscribers.
A spokesman for the company said: "Sky has consistently delivered customer growth in line with its targets, while increasing the number of products taken by existing customers. Our last reported figures kept us on track for 10m customers and we see substantial opportunity for continued growth until 2010 and beyond."