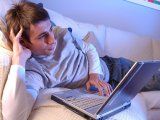 BT
has announced that it has no plans to roll out Phorm's internet tracking technology, but will closely monitor the company's progress in future.
Known as Webwise, the online network tool enables internet service providers (ISP) and online publishers to launch better targeted advertising based on the browser habits of web users.
However, this has attracted criticism from privacy campaigners - including World Wide Web founder Sir Tim Berners-Lee - on grounds of it being an unreasonable monitoring of online behaviour.
After secretly trialling the service back in 2006, BT has since launched more open tests of the technology prior to a potential rollout.
Despite this, the telecoms giant has now decided not to go ahead with the service and will instead prioritise other technology projects.
A BT spokesperson said: "We continue to believe the interest based advertising category offers major benefits for consumers and publishers alike. However, given our public commitment to developing next generation broadband and television services in the UK we have decided to weigh up the balance of resources devoted to other opportunities.
"Given these resource commitments, we don't have immediate plans to deploy Webwise today. However the interest based advertising market is extremely dynamic and we intend to monitor Phorm's progress with other ISPs and with Webwise Discover before finalising our plans."
Phorm is also reportedly talking to Virgin Media and the Carphone Warehouse about using the technology.