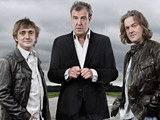 The BBC has apologised for an error experienced by some
Sky
+ users who tried to record last night's edition of
Top Gear
on their set-top-boxes.
This follows various
posts
on the
DS
forums about users missing a portion of the car show after setting it to record on the EPG.
The problem was caused by a scheduling error related to the BBC's coverage of the epic Wimbledon final between Andy Roddick and Roger Federer.
In response to a potential tennis overrun,
Top Gear's
start time was pushed back on the EPG to 8:30pm instead of the usual 8pm.
An earlier finish at the tennis meant that the start time reverted back to normal, but this was not updated on the EPG, resulting in just a portion of the programme being subsequently recorded.
A BBC spokesman explained: "At one point it was thought that our tennis coverage may run past its scheduled time slot. However, this didn't happen and
Top Gear
began at its original scheduled time of 8pm.
"Unfortunately some EPGs displayed an inaccurate start time. We're sorry for any disappointment or inconvenience this may have caused."
For anyone who missed the full programme, it will be repeated on BBC Two on Wednesday at 8pm and is also available for seven days on BBC iPlayer.