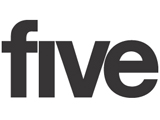 Five
has joined the IPTV joint venture Project Canvas, which aims to develop technical standards for the delivery of TV to broadband-enabled set top boxes.
The broadcaster joins the BBC, BT and ITV as equal partners in the project, although the level of investment it will commit to its development is currently unclear.
Based on the involvement of four partners, the BBC estimates that Canvas would require £24 million of investment over its first five years, which would suggest that Five will have to provide around £6 million to the project.
Despite this, Five reportedly views the joint venture as "critical to the long-term future of subscription-free TV".
In a statement, Five chairman and chief executive Dawn Airey said: "Project Canvas is an important step forward because it will extend choice and significantly improve the television experience for viewers.
"Its widespread adoption is central to driving Digital Britain. It's vital for broadcasters and other industry stakeholders to form partnerships such as Canvas if they are to open up new commercial opportunities and thrive in the digital world."
Canvas project director Richard Halton added: "We're delighted that Five has joined the consortium. Canvas aims to unlock the huge potential of internet-connected TV.
"By democratising access to the living room, we create real choice for consumers, a future for free-to-air broadcasting and important commercial opportunities for content providers."
The BBC Trust
recently published
its latest guidance on the venture, following the receipt of additional technical and organisational information from the BBC Executive.
In this, the BBC outlined firmer plans for development of the open platform to enable other PSBs, content providers and internet service providers to deliver video on demand content to consumers.
This includes a dedicated Canvas EPG and functionality to ensure that the service supports a "wide range of monetisation options, including targeted advertising, micropayments and subscription".
As part of plans to attract a total of seven partners to the project, Channel 4 is also considering getting involved.
However, the broadcaster remains unsure about its participation, with its head of online products Richard Davidson-Houston recently
telling
Digital Spy
that aggregation of VOD such as proposed by Canvas is just "not a slam dunk".
Sky has also previously
raised concerns
about how rigorous and impartial the Trust was being in regards to its assessment of Canvas.
Sky was alarmed about the possibility of the BBC using public money to shape the IPTV market, which would "distort competition" to the detriment of consumers.
It particularly said that plans to create a Canvas EPG have suggested that it would be a completely new platform rather than a service wraparound for IPTV.
The Trust has since confirmed that a September 1 deadline has been set for any remaining stakeholders to comment on Canvas, ahead of a provisional conclusion on the project in the autumn and a final decision "as soon as possible".