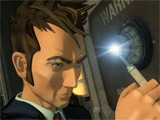 The BBC has revealed that an average of 11 million people are now using Red Button services every week after the platform enjoyed record growth over 2009.
According to figures released today by the BBC, nearly 1m people pressed the Red Button to watch animated
Doctor Who
series
Dreamland
when it aired recently.
Over 1m viewers also used the Red Button to see Robbie Williams perform three exclusive tracks during his appearance on
Friday Night With Jonathan Ross
.
Wimbledon remains the most popular Red Button content, with a total audience of 7.51m for the 2009 tournament, followed by the Glastonbury festival with 6.06m. Other popular events included the Snooker World Championships with 3.96m viewers and the Electric Proms with 2.56m.
Over Christmas, the Red Button will host a series of guides on how to create an authentic Victorian Christmas, which is designed to promote BBC Two's
Victorian Farm Christmas
. The service will also see the return of karaoke challenge on
Christmas Top Of The Pops
.
In a busy year for the Red Button, the BBC
recently launched
a new interactive service for CBeebies, offering games and features aimed at children under 6.
A
beta trial
of BBC iPlayer via the Red Button on Freesat is also currently being run ahead of a full rollout in Q1 2010.
However, the Red Button interactive channel was
closed
on Freeview in October - signalling an end to the popular BBC News Multiscreen - in a move designed to make room for the Freeview HD service.
"This year has proven that audiences love choice and enjoy the extra interactivity that the Red Button service can provide and we're pleased that, as UK television becomes fully digital, we've been able to take this incredible performance to even more viewers," said BBC Red Button managing editor John Denton.
"It's not just the amount of people using the service that has made this year so successful for this platform, BBC software engineers have extended Red Button technology to deliver BBC iPlayer to new audiences via Virgin Media and Freesat, allowing people to catch up with their favourite BBC programmes on their televisions in the living room."
BBC controller of TV platforms Rahul Chakkara added: "From the initial development work conducted by the BBC Research & Development team, followed up by the breakthrough innovation of our 2001 Wimbledon coverage, the Red Button service has redefined what was possible on the television screen.
"Today the BBC offers one of the leading interactive television services in the world. With the internet reaching television devices, we aim to produce more innovative and valuable services that will continue to delight our audience."